Nightmare Scenario
Aggie Cornog tells stories, dangerous and enchanting stories. Usually they end and everything goes back to normal, but this terrifying tale has come to life! It's down in the Basement, telling itself, and can't be stopped. That is, unless Aggie can recruit a gang of fearless story-busters to go down and sort it out! Nightmare Scenario is an edgy and immersive musical mystery.
Saturday 7th October | 11am & 2pm
Sunday 8th October | 11am & 2pm
Basement, Riverfront Theatre, Newport
Book tickets to see the show now!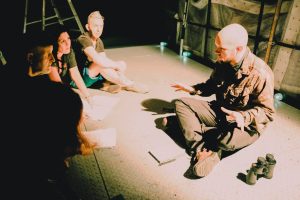 Development Process
We wanted to make sure the story we are going to tell is something that young people really want to hear, so we asked Pillgwennly Primary school to help us write it. We worked with pupils in July 2015 to come up some ideas and start to construct the story.
Photos from the Development week
Catch up with the process with our participant and team interviews here
---
Creative Team
Writer: Martin Riley
Composers: Stephen Deazley & Martin Parker
Director: Rhian Hutchings
Designer: Ruth Stringer
Cast: Adam Jondelius, Andrew Slater, Natalie Paisey, Sara Liane Owen
Nightmare Scenario RnD is funded by Arts Council of Wales, Creu Cymru, Colwinston Charitable Trust, The Riverfront Theatre and Leys Development.